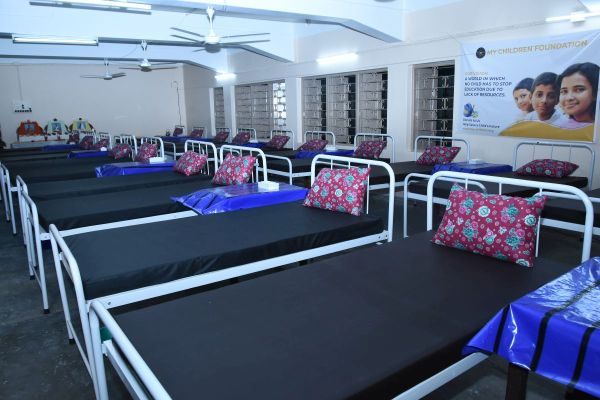 "Only a life lived for others is a life worthwhile."
   – Albert Einstein
We are on a mission. India is going through an unprecedented health crisis due to COVID-19. We are taking following measures to fight this menace. 
A. 125-bedded safe home at Ramkrishna Mission Narendrapur in collaboration with Government is already built:
We are working with district administrations to build 25-150 bedded rural isolation centers or safe home so that infected persons can be isolated to prevent spreading of the disease.
First 125-bedded safe home is completed at Ramakrishna Mission Ashrama, Narendrapur, Baruipur Sub-Division, South 24 Paraganas, West Bengal. It is currently in full operation.
Check proposal from SDO to us here.
B. Taking care of 100 children affected by COVID-19:
A large number of daily wage earners & workers are losing jobs. In many cases, the death of the sole breadwinner is pushing families in deep crisis. Among all of these, children are the most affected. With your help, we will identify these families, verify them and help these unfortunate children to tide over this crisis.
My Children Foundation is a not-for-profit organization based in Kolkata. Our organization helps underprivileged children to continue their education till they reach their full potential. If it excites you, please explore what roles you can play here and register with us.
*Some important points for your consideration:
All your donations are exempt from Income Tax under Section 80G of Income Tax Act, 1961.
5-15% of your donation is used to cover platform & operational cost. For details please check HERE.
We strongly recommend you to read our terms & conditions, privacy policy and FAQ section.
You may also directly donate to My Children Foundation, A/C No: 920020057061507, A/C Type: Current Account, IFSC Code: UTIB0000669. Email your donation details to info@my-children.org to get the donation receipt.
We are targeting to raise INR 60 lakh in first phase. High-level estimate is as follows:
A. Building isolation center in collaboration with Government:
125-bedded isolation center at Narendrapur : Rs. 38,44,455 /- *
B. Taking care of children affected by COVID-19:
100 children for 1 year – Rs. 20,000 /- per child = Rs. 20,00,000 /- .
Thereafter, we will continue on our own. It is our promise!
Grand Total: 38,44,455 + 20,00,000 = Rs. 58,44,455 /- ~ Rs. 60 lakh
*Cost calculation for 125 bedded isolation center:
1. Initial Cost:
125 iron hospital beds@4500 each with GST = Rs. 6,63750 /-

125 mattresses @1700 each with GST = Rs. 2,50,750 /-

125 pillow @280 each with GST = Rs. 41,300 /-

125 pillow covers @150 each with GST = Rs. 22,125 /-

125 bed sheets @420 each with GST = Rs. 61,950 /-

26 Oxygen Concentrators (10 lt) @85000 each with GST = Rs. 26,00,000 /-
Total: Rs. 36,39,875 /-
2. Recurring operations for 1 month:
300 PPE Kits @250 each with GST = Rs. 88,500 /-

300 N95 masks @50 each with GST = Rs 17,700 /-

600 Gloves @10 each with GST = Rs. 7,080 /-

100 Lt. Sanitizer -@ 350 per litre with GST = Rs. 41,300 /-
Total: Rs. 1,54,580 /-
3. Miscellaneous operational cost: Rs. 50,000 /-
Grand Total: 36,39,875 + 1,54,580 + 50,000 = Rs. 38,44,455