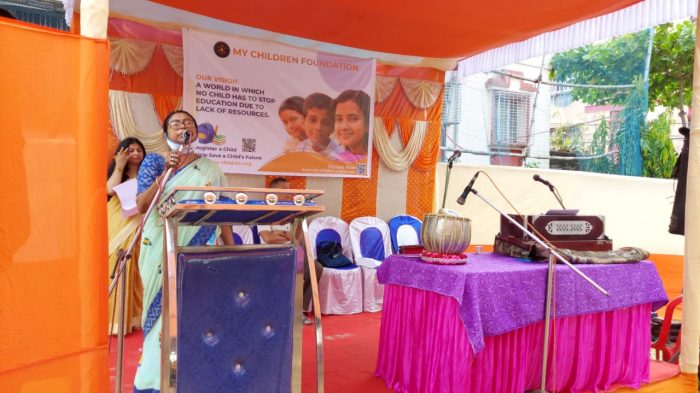 Annual Meet 2022 & Cloth Distribution Ceremony
"Anyone who does anything to help a child is a hero to me."
   – Fred Rogers
My Children Foundation organized its 2022 annual meet along with cloth distribution to local underprivileged school children on 1st May, 2022 in collaboration with Bansdroni Saroj Sangha under guidance of  local councilor. Ms. Anita Kar Majumdar Sil. We thank you all our children, parents, teachers, volunteers and guests for making it grand success. We are overwhelmed by your presence and proactiveness. Thank you! 
We missed all others who could no make it due to distance or other obligations. We hope we will meet you next time with much bigger fashion since our family is growing everyday. 
Before the annual meet we conducted a talent hunt competition among our children and awarded top three. But, we got many paintings which are excellent and worth displaying & sharing with you.
These painting are drawn by our children. If you like any of them, you may get them against a small donation. Please email to info@my-children.org or contact at +91-91633-30079. We will bring the original one, frame it properly & deliver it to you. A portion of the raised amount will go to the child who painted directly and rest will be used only for charity purpose. Your donation is exempt from tax under Section 80G of Indian Income Tax Act.
The program started with the speech by local councilor. Ms. Anita Kar Majumdar Sil, followed by opening ceremony. We distributed new clothes to nearly 30 local children nominated by their school authorities. In opening ceremony, Ms. Supti Chakraborty and Ms. Mandira Mukherjee along with Ms. Ipsita Mukherjee sang Rabindrasangeet and other songs. Then Ms. Ankana Majumdar recited Joy Goswami's poetry and Ms. Samanwita Karmakar performed dance along with a Rabindasangeet. 
Lastly, one of our children, Mr. Susovan Das recited one poem by Rabindranath Tagore. After opening ceremony, chairman of My Children Foundation gave his speech to explain vision & mission of My Children along with previous year's achievements and the new targets of current year. We have awarded certain people for their remarkable contribution and also the children from talent hunt competition. Parents, mentors shared their experience with audience. 
The program was ended with a thanks giving note from My Children's public relationship head. Our volunteers distributed clothes to all the needy children identified by local schools. Our food & beverage team arranged tea, water, biscuits for all the participants. At the end they served delicious lunch box.
We wish we can meet with our children, mentors, parents, volunteers more often. We are extremely thankful to all for their enthusiastic participation in spite of the hot weather. Lastly, it would have been impossible to organize it without the tremendous effort by the secretary of Bansdroni Saroj Sangha, Mr. Sanjoy Dutta. We ended our ceremony with lot of solidarity among ourselves to meet the new goals for current year set my our chairman and take My Children to new height.