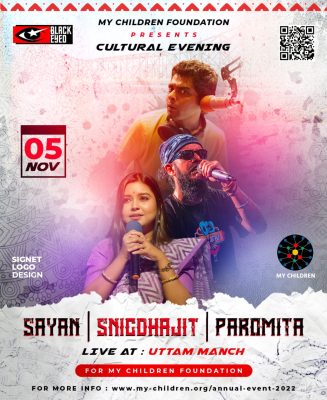 Celebrate the future - our children!
"It takes a village to raise a child"
   – African proverb
Date: 5th November, 2022, Gate opens at 4 pm
Venue: Mahanayak Uttam Manch, 10/1/1, Manohar Pukur Road, Hazra, Kalighat Zilla, Kolkata, West Bengal 700026 (Nearest Metro Station – Jatin Das, Landmark – Basusree Cinema Hall).
Contacts: Sudipta Chakraborty – 9830993510, Sudipta Mumar Maiti – 9051401468, info@my-children.org
Srishti Jha was only twelve when her father abandoned her, and her mother and they were left with no source of income. They were confronted with multiple difficulties, but her maternal uncle tried to support as much as he could. However, that wasn't enough!
She approached several NGOs, but nothing worked out until she was introduced to My Children Foundation.
Thanks to MCF, it has been 2 years and Srishti is now able to continue her education and hobbies that she's passionate about. MCF has been playing an instrumental role in shaping the lives of several children like Srishti across India.
A non-profit organization based in Kolkata, MCF has come up with this noble initiative of supporting children who have been deprived of their basic rights to education. MCF supports these children until they are ready enough to earn their livelihood.
In order to accomplish their mission and vision, MCF is organising a Cultural Fundraising Event on 5th Nov'22 at Uttam Mancha,Kolkata. This would be a star-studded event where eminent artists like Snigdhajit Bhowmick, Paromita Pramanik and RJ Sayan would be gracing the occasion.
Snigdhajit Bhowmik is a professional Indian play back vocalist from Raiganj (West Bengal) and has lend his voice for songs like Alocoholia (Hrithik Roshan starrer "Vikram Vedha"), Sudhu Tumi, Bhalobasi Tomake, Eso Bondhu to his credit. He was also the first runner up for Zee Bangla Sa Re Ga Ma Pa in 2018-19 and Zee TV Sa Re Ga Ma Pa finalist 2021-22.
Paromita Pramanik, is a Bengali orator performer who has touched millions of hearts with her mesmerizing voice and her simple yet impactful poetic verses on her online page – Paromitar Kobita. Her recitals have earned her 2.5 million followers on social media in a very short span of time.
This event will be facilitated by one of Calcutta's favourite RJs- Sayan, who is known for his unique sense of humour and quick wits. RJ Sayan rose to fame with the popular radio show – Happy to Disturb where his performance earned him several accolades and praises. He is famous for his unique voice over techniques and stand-up comedy.
At MCF, we understand the unparalleled contribution of mothers in shaping the lives of their children and to acknowledge that, we would also be felicitating those guiding angels in the event.
We urge you all to participate and join hands in large numbers to make this event a grand success!
| Category | Total | Available |
| --- | --- | --- |
| Ground Front | 120 | 1 |
| Ground Rear | 233 | 65 |
| Balcony Front | 128 | 72 |
| Balcony Rear | 89 | 49 |
| Total | 570 | 187 |
*All your donations are exempt from Income Tax under Section 80G of Income Tax Act, 1961.
To book seats, click "Donate" button.

Once you make a donation, you will immediately get a donation receipt in your email. 

We will send invitations based on donation & first-cum-first basis. Please mention your specific request in Comment box e.g. '2 seats of a specific category', 'Invitation is not required' etc. Please note that we may not be able to invite you due to non-availability of seats.

More than 85% of your donation goes directly to children. For details please check HERE.

You may also directly donate to My Children Foundation, A/C No: 920020057061507, A/C Type: Current Account, IFSC Code: UTIB0000669. Email your donation details to info@my-children.org to get the donation receipt & invitation (if available).

If you want to donate using cheque, let us know. We will collect it at doorstep.