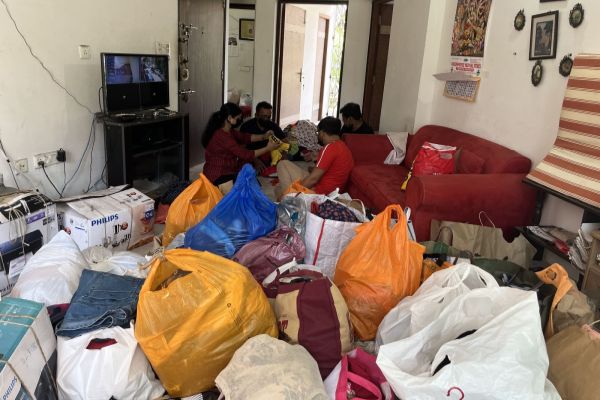 Reduce Waste, Gift a Better & Cleaner World to Our Children
Recycle | Redesign | Repurpose
"Fashion is one of the most polluting industries in the world. We need to change that."
- Emma Watson
Reduce, reuse, and recycle – This has been the mantra for years. People are shopping and buying more, so the output of clothing is higher. However, the quick fashion industry and overstuffed closets, have all contributed to overflowing landfills. My Children has taken an initiative to collect old clothes, classify them and then recycle or redesign or repurpose.
It's great for the planet: It takes about 700 gallons of water to make a tee shirt! Recycled materials use 99% less water. Recycling fabrics reduces greenhouse gases by 50% or more! For every 1 pound of material that gets recycled, up to 4 pounds of carbon dioxide are saved from the atmosphere! It also conserves energy by lowering the need to create new materials.
It benefits those in need: When you donate your clothes, you help a lot of people. Your clothes will begin a new journey and be part of new memories. Far better than being binned and forgotten. Your branded clothes are dream for many less privileged people. Donating those clothes which you have forgotten long back creates opportunity for them to enjoy.
It's easy & helps declutter your closet: It simply takes a few seconds longer to donate your clothes, than it does to throw them away. Donating clothes you don't wear anymore will make it easier for you to find what you're looking for, saving you time and stress. Also, decluttering is very calming. Research even draws a connection between having less stuff and increased happiness!
Creates Jobs: Creating a circular economy with clothing generates some interesting new jobs including designers, biochemical engineers, chemists, and sustainability experts. Then that new material has to be processed and made into new yarns and fabrics, then sold, cut, sewn, inspected, packaged, shipped, and displayed by other employees.
It lowers the cost of consumerism: People have been talking about the idea of living a minimalist lifestyle for some years. The minimalist lifestyle keeps us from engaging in expensive consumerism, or, more crucially, costly waste. We make a personal impact on the wastefulness of the textile business, when we buy recycled clothing, recycle items ourselves, and simply buy less.
There are 2 options to donate your clothes –
1. Drop you clothes at your nearest location: Pack your clothes in a suitable bag and drop it at any of the below locations. Please whatsapp to the respective number to schedule a suitable time before you come. If needed, call between 10 am and 8 pm.
Address: Sudipta Chakraborty, Flat-1B, Block-12, Srijan Heritage Enclave,Kolkata - 700136

Mobile: +91-98309-93510
Address: Debashis Majumder, Urban Sabujayan, Building – 104, Flat – B4, Jagatipota, Kolkata – 700099

Mobile: +91-9163330079
Address: Subhrajit Bhattacharjee, 19, Ferry Fun Road, H.B. Town, Sodepur, Kolkata - 700110,

Mobile: +91-98360-86789
Address: Sabarna Mukherji, 18/67A, Dover Lane, First Floor, Kolkata - 700029

Mobile: +91-9830096992
Address: Subhrajit Bhattacharjee, Prophecy Sensorlytics India Pvt Ltd GN-4, Sector V, Salt Lake, Kolkata 700091
Mobile: +91-98360-86789
Address: Sudipta Kumar Maiti, CK-184, First Floor, Sector - II, Bidhannagar, KOLKATA - 700091

Mobile: +91-9051401468
2. Raise pick-up request: If you are unable to drop your clothes, raise a pick-up request. We will try our best to collect your clothes from your doorstep. Please provide a valid mobile number so that we can call you and fix a pick-up time.
There is no age or gender restriction.
Do not call before 10 am or after 8 pm.
No used undergarments.
Although we will wash, disinfect and iron, please wash your clothes before you donate.
Don't be afraid to include high-end items like a suit or formal dresses. There is no point to keep them and clutter your wardrobe if you don't use. Let someone enjoy it.
No heavily stained, worn garments.
WHAT WE WILL DO WITH YOUR CLOTHES
After collection of all clothes, our team will screen all clothes and put into different buckets depending on condition, quality & usage. Then we will treat them in 3 different ways –
1. Recycle: With the help of our recycling vendors, we will disinfect, wash and iron selected clothes. We will try to repair all the damages as much as possible. Once processing is done, we will try to distribute those clothes among needy people as much as possible. Depending on the quantity of clothes, we may circulate those clothes in the formal market through our vendors.
2. Redesign: Some clothes may deserve redesigning to give a different, attractive look e.g. transforming jeans into shorts or. With the help of professional designer, we will redesign, rebranded those clothes and conduct a charity sales to raise fund.
3. Repurpose: Some clothes may no longer be used for their original purpose. Our experts will evaluate and convert them to something else to use them differently e.g. making a quilt or pillow from old T-Shirts.
Running this program needs significant fund. You contribution is crucial for us to remain sustainable and scale our operation. If you wish to support this cause, please click the below button.
*All your donations are exempt from Income Tax under Section 80G of Income Tax Act, 1961. 
2023: Processed 4500+ clothes
Give your old clothes a new life!
Clothes are getting ready :).
Clothes distribution to girls.
Clothes distribution to boys.