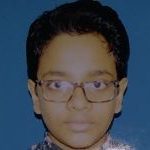 Child's Name: Sk. Hasan Haque (Public Profile)
Age: 12 years old
Gender: Male
Good At: Academics
Place: Kolkata, India
Annual Family Income: Rs. 60,000/-
Family Size: 5
Currently studying: 6th
Custodian's Occupation: Housewife
Note from the child:
Sk. Hasan Sk. Hasan is a student of JDS,He studies in class 6.He lives at topsia near kalikhola masjid kolkata-39.He is 11 years old. They live in their grandparents' home and they have a room, a kitchen and a common bathroom. He has three siblings. His father Sk. Samsul haque is working in a complex as a clerk and his monthly income is Rs.5000 only. His mother Habiba Jahan is a house maker. Hasan is a very good student in his class. His favorite subject is history. He is much more interested in drawing and loves to draw. They have financial issues so,he does not do classes for drawing.He wants to become a civil Engineer. He actively participates in every activity and puts his 100%.He is a hard working student. His behavior is very good and his mother always takes feedback from the teachers regarding his behavior and study.He scored more than 85% in his previous class. Ektara has been a biggest blessing for him. With their help he is able to take admission in a English medium school. Ektara is providing all types of facilities for his studies to learn and achieve his goal in life.
Sk. Hasan is a studious boy .He is in class 6.His father works as a clerk in a complex and his monthly income is 5000/only. He has three siblings. He wants to become a civil engineer. Their economical condition is not so good .
Performance Records
| S. No. | Board/University | Standard | Maximum | Obtained | Percentage | Position | Comment |
| --- | --- | --- | --- | --- | --- | --- | --- |
| 1 | Wbbse Board | 6 | 1000 | 823 | 82% | – | Sk Hasan Haque Scored Amazingly By Getting 823 In His Class 6 Finals |