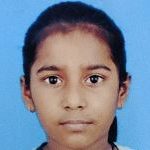 Child's Name: Afiya Khatoon (Public Profile)
Age: 11 years old
Gender: Female
Good At: Academics
Place: Kolkata, India
Annual Family Income: Rs. 86,400/-
Family Size: 8
Currently studying: 5th
Custodian's Occupation: Housewife
Note from the child:
Afiya Khatoon is a bright and intelligent student, she pays attention in her studies and always gives her best in whatever she does, she actively participates in co-curricular activities like sports, concert, handwriting, drawing, art and craft, story telling etc and even secured certificates for her participation.Afiya is consistent throughout her academics. Her parents in spite of so many financial problems always support her in every way to pursue education. Afiya wants to become a teacher, through her career she wants to educate people and spread the importance of education.
Afiya Khatoon needs help with her education as their financial condition is not great .