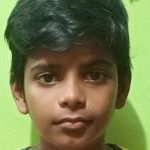 Child's Name: Md Rehan (Public Profile)
Age: 13 years old
Gender: Male
Good At: Creative
Place: Kolkata, India
Annual Family Income: Rs. 48,000/-
Family Size: 5
Currently studying: 6th grade
Custodian's Occupation: Housewife
Note from the child:
MD. Rehan is a student of Indira Academy. He studies in class 6. There are five members in his family. He lives in 4A/ Topsia 2nd lane kolkata 700039.They live in a one room flat.His father MD. Shamshad Alam is an auto driver, his mother Nazni Begum is a housewife. His elder sister Sadaf Afreen studies in Memorial school in class 8, currently she is not doing her classes as the school is totally closed due to Covid- 19. His other sister Sana Afreen studies in Memorial school class 7 , her studies have also been stopped due to the same reason. His family is going through a serious financial crisis as well due to lockdown. They don't have any proper income, his father earns 4,000 rupees per month. He is the sole earner of the family. MD.Rehan is a bright child, he pays attention in studies, and constantly tries to upgrade his skills. He has keen interest in drawing , painting and art and craft. His favourite sport activity is football, under proper guidance and care he is improving in academics as well as extracurricular activities. His parents are very supportive of his studies, they constantly take proper care of him and try to create an environment where he pays full concentration in his studies. They want him to become a very successful person in life and always encourage him to do well. Rehan's favourite subject is maths and he wants to become an engineer when he grows up. Ektara has been a huge support for him, whatever he could acquire and achieve in his life it's all due to Ektara and his parents support. He wishes to make his family and ektara proud by performing well in every path of his life.
MD.REHAN needs support because he shows great performances in his studies , he pays great attention in his academics .he is always shows keen interest in every academics and extracurricular activities. Although being so good in studies he could not able to achieve his dreams as his family faces lots of financial issues ,they barely earns around 48,000 annually. thus, there parents could not support him in achieving his goals.