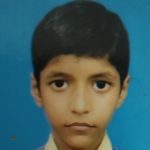 Child's Name: Farooque Rahman (Public Profile)
Age: 13 years old
Gender: Male
Good At: Academics
Place: Kolkata, India
Annual Family Income: Rs. 48,000/-
Family Size: 6
Currently studying: 6th
Custodian's Occupation: Housewife
Note from the child:
Farooque Rahman, Farooque Rahman is a student of JDS and he studies in class 6 and he is 13 years old.He lives at 13 E, Tiljala Masjid bari lane kolkata – 700019 . He has six members in his family including him.He has four siblings.His father Khalilur Rahman is a dice maker and the only earning member of his family. His monthly income is 3500 to 4000 only.His mother Jamila Begum is a house wife. They live in a rented house and have a room,a kitchen and separate bathroom. Farooque is a very good student.He does all his work on time. In spite of having too much financial crisis in his family, he does his studies properly. His favorite subject is English. Last year in class 5 he scored 95% marks. Apart from this, His hobbies are playing cricket and riding a bicycle. He wants to become a cricketer as he has too much interest in it. He is a very active student. He gives his best in his studies.His sister helps him very much in his studies. Ektara is the only place from where he got the opportunity to learn and grow from a very good English medium school.
Farooque is a very good student. He has four siblings and father is a dice maker and his monthly income is approximately Rs. 4000/ only. His financial condition is not well that is why he needs financial support for further studies.
Performance Records
| S. No. | Board/University | Standard | Maximum | Obtained | Percentage | Position | Comment |
| --- | --- | --- | --- | --- | --- | --- | --- |
| 1 | Wbbse Board | 6 | 1000 | 868 | 86% | – | Farooque Rahman Has Done Amazing In His Class 6 Finals Scoring 86.8 % |