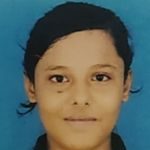 Child's Name: Nahid Javed (Public Profile)
Age: 17 years old
Gender: Female
Good At: Academic, Sports, Performing Arts
Place: Kolkata, India
Annual Family Income: Rs. 54,000/-
Family Size: 5
Currently studying: 10th
Custodian's Occupation: Housewife
Note from the child:
Nahid is a bright child. She reads in class 10 of Indira Academy. Her age is 16. She is a disciplined and hardworking girl. She lives with her family in 53/ 40A , tiljala road kolkata -700046. In her family there are 5 members . Her mother ( Shabhnam begum) , father ( MD. Javed), and two elder sisters (Nikhat javed, Farhana Javed). They live in a single room and uses common bathroom. Nahid's father is a sole earning person of his family. He is a repairman (labour) . Her mother is a housewife. Both the elder sisters are studying one is of class 12 th standard and other has just went to college. Nahid is a fine learner . Her family is very supportive towards her even after in such financial crisis. Apart from studies she loves doing art ,craft and dancing. She has also taken part in few workshops regarding food, dance, menstrual, drawing. And received Certificates for participating in drawing competition and academic excellence. She has been a consistent student from a long time , her scores from past few years are in between 94 to 96% . She has a curious nature to learn new things. She aspires to become a business woman one day. Her focus will surely take her to it. She is very thankful to ektara for giving all these opportunities to her.
Nahid needs support because she is a very intellectual child and if gets supported she can achieve her goals. She never disappoints her teachers. She can be a good citizen if given right path.