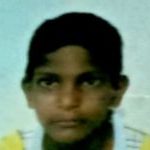 Child's Name: Akash Sahani (Public Profile)
Age: 15 years old
Gender: Male
Good At: Academic
Place: Bhadreswar, India
Annual Family Income: Rs. 90,000/-
Family Size: 4
Currently studying: 9th
Custodian's Occupation: A Jute Mill Worker
Note from the child:
I, Akash Sahani, belong to an underprivileged section of the society. My father is a jute mill worker and his monthly income is around rs-7500. It is really very difficult for him to run the family at this low income.I have four family members of which I and my elder brother are pursuing studies.It is almost impossible for my father to bear the expense of my studies. During this covid-19 pandemic my father does not get regular duty. He gets the duty only three days a week. In this situation his monthly income has become unstable.Throughtout my childhood I have been performing very well inspite of the above mentioned hardship. At present I study in class-ix. Last Year I was in class-viii,but no examination was taken then due to the covid-19 pandemic.But in 2019 when I was in class-vii,I had scored 83% marks in the final examination.
I,Akash Sahani,need the financial support to fulfil my own as well as my parent's dream.I want to pursue my further studies and reach the potentiality of my ability. If I get your support, I can be able to buy good books and take required coaching,without putting any burden on my family.
Performance Records
| S. No. | Board/University | Standard | Maximum | Obtained | Percentage | Position | Comment |
| --- | --- | --- | --- | --- | --- | --- | --- |
| 1 | Wbbse | 7th Class | 900 | 752 | 83% | First | I Stood First In My Class. |
| 2 | W.b.b.s.e. | 7th | 900 | 752 | 83% | 1st | I Stood First In My Class. |