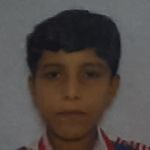 Child's Name: Pratham Sah (Public Profile)
Age: 19 years old
Gender: Male
Good At: Academic
Place: Bhadreshwar , India
Annual Family Income: Rs. 48,000/-
Family Size: 3
Currently studying: B.sc 1st year 2nd semester
Custodian's Occupation: Without Work
Note from the child:
I belong to a under privilege society. I lost my father at the age of. It is very difficult for Our family to survive 3 members and bear tha cost of me and My sister's education. As I don't have a family income Bt my maternal Grand Father gives us some help to run our family and ours education. Throughout my childhood i have performed very well inspite of all the hardships.I scored 70.57% in my Madhyamik Examination. After that i went to Rishra Vidyapith Hooghly purely on the basis of my merit . From there in class 12 with science stream I scored 79.4% marks. Presently i am persuing B.sc from Barrackpore Rashtraguru Surendranath college.
I need financial support and guidance to fulfill and the dream of my mother.I want to Persue higher studies as well as want to take preparation for Graduate level Competitive exams.If I get your support I can Buy Good references books ,can easily pay the college fee without putting any burden on my family .If I don't get the support I can't reach the full potential of my ability .
Performance Records
| S. No. | Board/University | Standard | Maximum | Obtained | Percentage | Position | Comment |
| --- | --- | --- | --- | --- | --- | --- | --- |
| 1 | Wbbse | 12 Sci | 500 | 397 | 79% | – | I Have Scored 79% In Higher Secondary Exam |
| 2 | Wbbse | 10 | 700 | 494 | 71% | – | I Have Scored Approx 71 % In Madhyamik Exam |