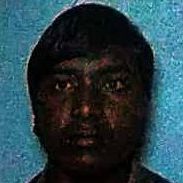 Child's Name: Samaresh Ruidas (Public Profile)
Age: 26 years old
Gender: Male
Good At: Academic
Place: Chandinagar, India
Annual Family Income: Rs. 60,000/-
Family Size: 4
Currently studying: Graduate 2021
Custodian's Occupation: Agriculture
Note from the child:
I belong to a very under privillage society. My father is labourer and his monthly income is around 4500/-. It is very difficult for him to run the family of 4 members and bear the cost of my high education infact due to this pandemic his monthly income has become unstable due to the lockdown. I would like to be a Teacher in future. This is impossible to pursue my dream only my father's financial help. Throughout my childhood I have performed very well inspite of all the hardships I scored 82.60% in my H.S Examination of 2016 and 80.50% scored in my D.EL.ED of 2018. I passed History Honours from Haripal Vivekananda Mahavidyalaya under Burdwan University with 76.10% marks. At present I have filled out the form for admission to M.A .
The financial condition of my family is not very sound. My father is the sole earning member of my family. He can only fulfill the basic necessities of ours. If i get the support from your organization. I can dream big and strive with all my efforts to fulfill it without worrying about the expenses of education. But if I don't get this support, it will be very difficult for my father to support my education further. In that case either I have to stop my education or compromise on my dreams. It is my humble request to you to support my education today so that I can support my family and society in future.
Performance Records
| S. No. | Board/University | Standard | Maximum | Obtained | Percentage | Position | Comment |
| --- | --- | --- | --- | --- | --- | --- | --- |
| 1 | Jawaharlal Nehru National Youth Centre | DCTT | 300 | 246/A | 82% | – | I Have Successfully Completed My Dctt Course From Vivekananda Computer Prashikhan Kendra, Dwarhatta Underjawaharlal Nehru National Youth Centre. |
| 2 | The University Of Burdwan | B.A(Hons.) | 1350 | 1027 | 76% | 1st | I Have Successfully Completed My B.a History Honours From Haripal Vivekananda Mahavidyalaya Under Burdwan University With 76.10% Marks. I Have 3rd Position In My Department. |