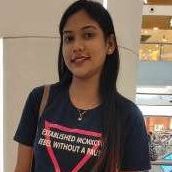 Child's Name: Sneha Purkait (Public Profile)
Age: 17 years old
Gender: Female
Good At: Academic, Music & Dance, Leadership
Place: Kolkata, India
Annual Family Income: Rs. 24,000/-
Family Size: 4
Currently studying: 12th pass
Custodian's Occupation: Labour
Note from the child:
My name is sneha purkait. This year i passed out class 12.I lived in 8no. Rahim ostagar road. I belongs to a lower middle class family. My father is a daily labour. Therefore he have not a permanent income in a month. My mother is a domestic worker and also she was a swiming trainer. Due to lockdown all swiming pools are closed therefor she was no work so she was not get any salary for the swiming club. Then she started domestic work and my elder brother works in zomato. In between lockdown during the work he had an bike accident and then he had an fracture on his leg. In this situation my family took loans for livelihood. Facing this situation i want to continue my education. Therefore i collect old books from freinds and prepare myself for exam and passed with 375.still now i want to continue my education. I want to study psychology honours.
My family do not have a fixed monthly income because they have no fixed work and we bound to do repay loan amount which we took for livelihood. My parents couldn't bear my education expanses. Therefore my humble request to you to support me and give support for my education.
Performance Records
| S. No. | Board/University | Standard | Maximum | Obtained | Percentage | Position | Comment |
| --- | --- | --- | --- | --- | --- | --- | --- |
| 1 | Wbchse | 12 | 375 | A | – | – | These Are My Performance Record When I'm In Class 12.now I Am Read In College. This Year I Passed Out Class 12. |