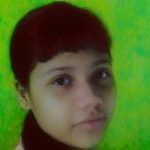 Child's Name: Mobassara Ali (Public Profile)
Age: 11 years old
Gender: Female
Good At: Academics
Place: Kolkata, India
Annual Family Income: Rs. 72,000/-
Family Size: 5
Currently studying: 5th
Custodian's Occupation: Support Staff
Note from the child:
Mobassara Ali is a bright, polite, disciplined and intelligent student, she is very smart and amazingly confident, pays attention to her studies and always gives her best in whatever she does, she actively participates in co-curricular activities like sports, concert, handwriting, drawing, art and craft, storytelling etc, Mobassara is consistent throughout her academics. Her parents in spite of so many financial problems always support her in every way to pursue education. Mobassara wants to become a Lawyer,at such a young age she has her career choice made and is aspiring to become a great lawyer one day
she feels confident in whatever she does, and puts her best to make her parents proud. She needs help in her education to be a bright star.