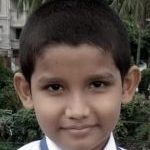 Child's Name: Sk. Manab (Public Profile)
Age: 12 years old
Gender: Male
Good At: Academics
Place: Kolkata, India
Annual Family Income: Rs. 3,000/-
Family Size: 4
Currently studying: 6th
Custodian's Occupation: Housewife
Note from the child:
Sk. Manab Sk. Manab is a student of JDS. He studies in class 6.He lives at 11/A Topsia Road, south kolkata-46. He is 11 years old. He is a single child of his parents. His Father Sk. kawsar is a driver but during this covid pandemic he is jobless. His mother Marina Khatoon is a house maker. They live in a rented house with a single room and a common bathroom.There are four members in his family ,his maternal grandmother,father, mother and Manab. Their financial situation is not good at all. Sk. Manab is an excellent student. He always does his work on time and if there is any doubt in his chapter he always comes to us and ask without any fear and he is very dedicated to his studies. He scored 90% marks in class 5.His parents are very supportive towards his studies. They always keep track regarding his classes. He always participates in Arts and crafts as he is very interested in creativity. He wants to become a doctor to help the needy ones. He always keeps a smile on his face and gives respect to the teachers and behaves in a very polite way. Ektara has given him the opportunity to study in a English medium school. They are providing all types of facilities that is why he is able to continue his study in a proper way like other children.
Sk. Manab is a very good student. He is in class 6. His Father is a driver but due to this pandemic he is jobless. His annual income is only 3000/. Manab is a single child of his parents. He wants to become a doctor.
Performance Records
| S. No. | Board/University | Standard | Maximum | Obtained | Percentage | Position | Comment |
| --- | --- | --- | --- | --- | --- | --- | --- |
| 1 | Wbbse Board | 6 | 1000 | 795 | 79% | – | Sk. Manab Got His Class 6 Finals Results And He Did Amazing Getting 79 % . |