Make your donation quick & simple
Your small contribution can bring remarkable change in a child's life. We made your donation very simple & easy, Please follow the below process step by step:
1

Navigate to right place
You can of course DONATE without registering with us. But, it helps you to get better visibility & control. Once logged in, you can see all your donations with corresponding receipts. Also, for subsequent donations, system uses your saved data to make the donation process quick & simple. If you are already logged in, all the details will be copied in donation form. If you are not logged in, please click toggled button "Registered before? Log in to use your saved details." and log in.
Recurring donation is the preferred mode. You can contribute small amount regularly without any hassle. You can pause, renew, stop any time you want.
You may choose your donation from suggested amounts or mention a custom amount.
Choose your periodicity. 
You will get donation receipt once any donation made.
You may also donate time to time based on your convenience by clicking "One Time" tab.
Choose your donation from suggested amounts or mention custom amount. Any contribution is important to serve our children.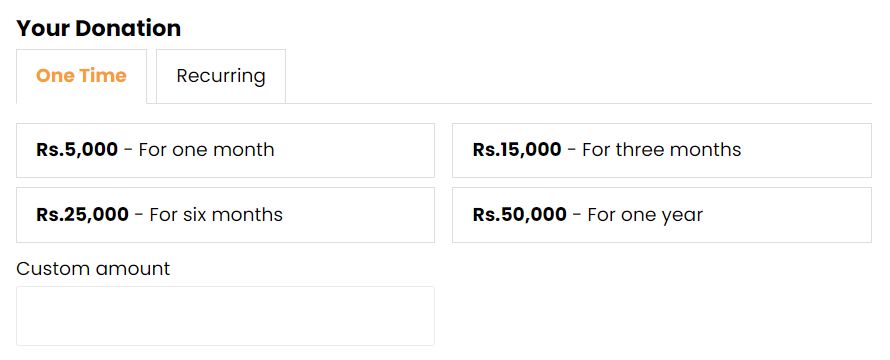 Time to provide donor details. Some of the fields are legally mandatory.
If you are logged in, most of the information will be defaulted from your saved data.
If you don't have PAN Number or it is not applicable for you, please mention NA and provide any government or tax identity information in "Additional Comment" field.
Make sure your email id is correct. We will send donation receipt to that email id.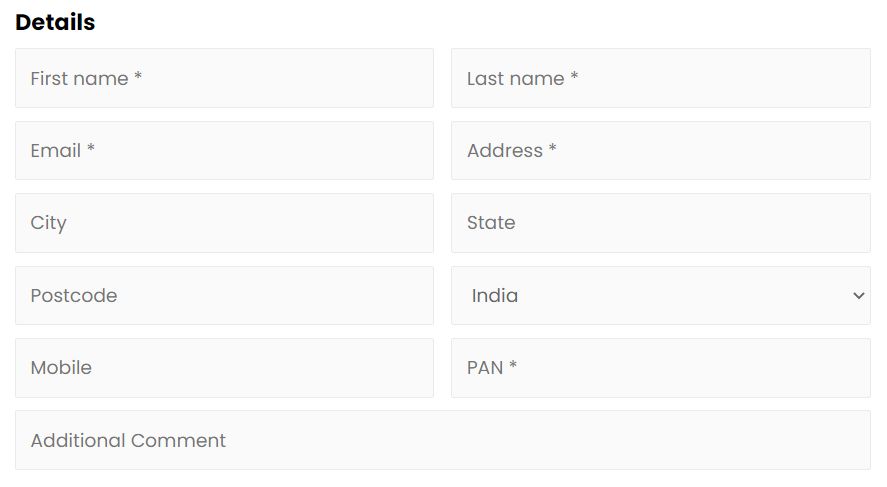 Read our terms & condition and privacy policy and agree to that.
We suggest you to give your consent to contact you via email or phone in case we need.
Click DONATE to initiate online payment via payment gateway.
You may also fund transfer directly to our bank account as mentioned. This will help us to avoid payment gateway charges. After fund transfer, please email us your details, we will verify and email you the donation receipt.
7

Recurring donation payment process - I
If you have chosen recurring donation, after clicking DONATE you will get a screen from payment gateway to check your subscription details.
To activate and start the subscription, you have to pay first time. Click "Pay <amount> and start Subscription"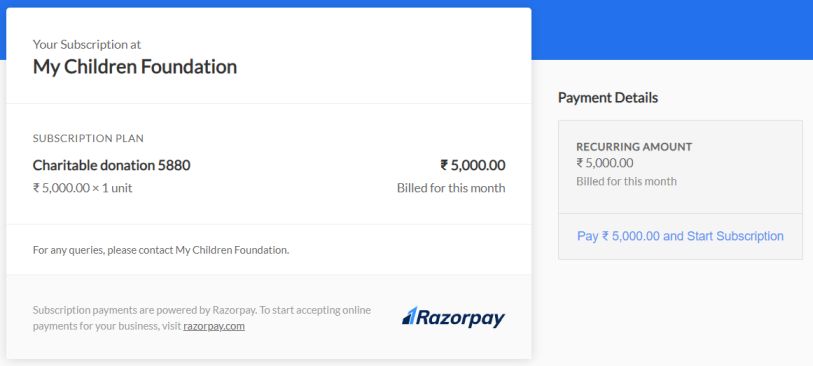 8

Recurring donation payment process - II
Check your email id and mobile number once more. If it doesn't come automatically, please mention the same.
Subscription payment is only available for visa and master credit cards and debit cards from some specific banks. Please check all the details and then click "PAY USING CARD"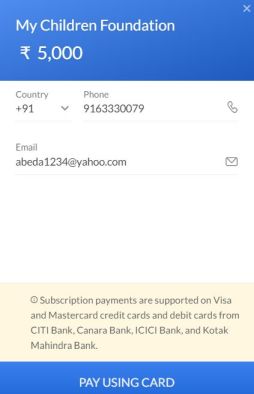 9

Recurring donation payment process - III
Provide your card details and complete the entire payment process depending on your card type and merchant.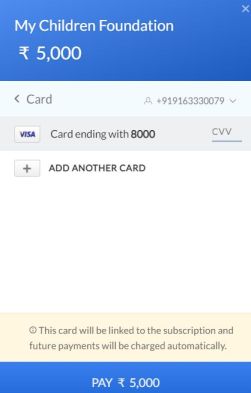 10

Recurring donation payment process - IV
Once payment is done, you will get a confirmation page with all the details of payment and subscription. You can see next due date when the next donation will be done automatically.
You will get an email with donation receipt and subscription details.
Going forward, any donation made automatically you will get the donation receipt. You can cancel, pause, renew your subscription anytime by contacting us.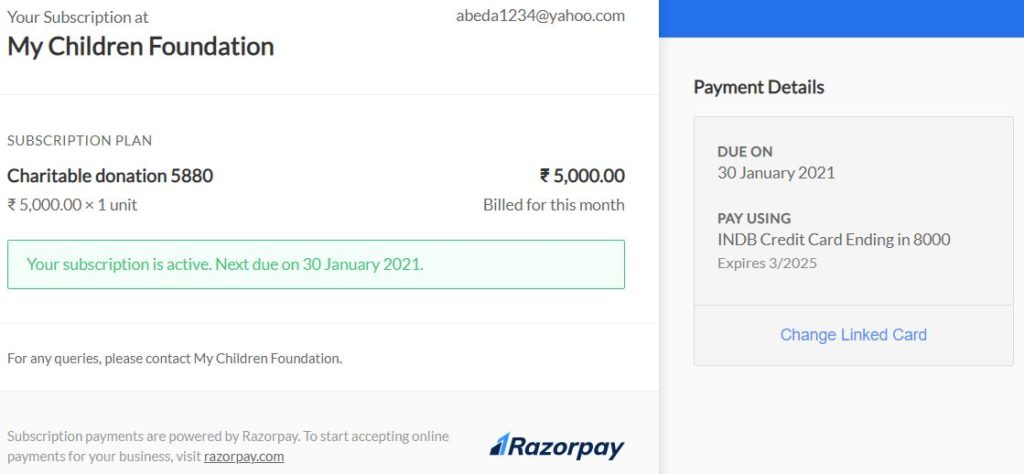 11

One-time donation payment process - I
If you choose one-time donation, after clicking "DONATE" button, it will go to payment gateway page
There are various methods available for payment. Choose your convenient payment method.
Check email and mobile number which should be copied from donation form.
Check everything and complete the payment.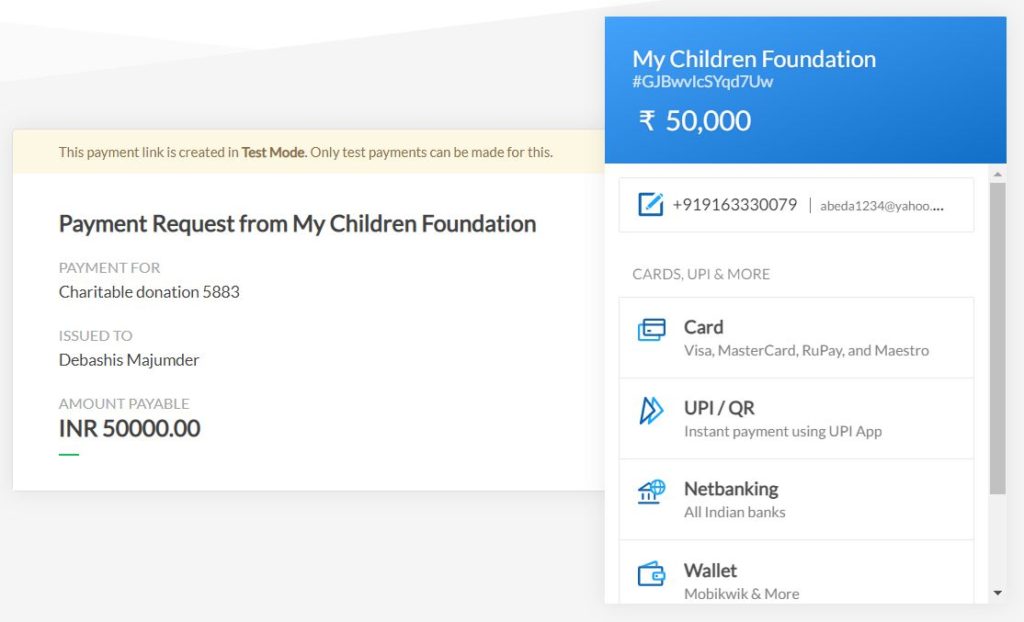 12

One-time donation payment process - II
Once your payment is done, you will be redirected to original page with a donation confirmation.
You will also get an email with donation receipt.
In case of any problem or concern, please Contact Us.